What is Ju-jitsu?
Ju-jitsu is the parent martial art of many modern Japanese martial arts such as Karate, Aikido and Judo. If you have ever tried another Japanese martial art, you may well recognise certain moves that we practice. Ju-jitsu is a martial art that is used primarily for self defence purposes and it is suitable for men and women of any body shape or size. It is not competitive sport, like judo or taekwondo. However there is a grading system as with other martial arts and you can progress through the grades at your own pace.
What will I learn?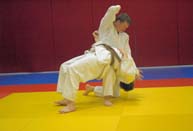 You will learn to defend yourself in 'real life' situations using various techniques. You will practice defending yourself from many different attacks, e.g. kicks, punches and strangles, in various situations: standing, in enclosed spaces, multi-man attacks and many more!
Who can learn Ju-Jitsu?
As previously mentioned, ju-jitsu is suitable for both men and women of any age, shape or size. Although we do not have a children's class, mature teenagers are welcome subject to the agreement of the Sensei. Our classes are mixed ability classes and so are suitable for anyone from complete beginners, to those with some martial arts experience, to ju-jitsu black belts.
Other benefits
Aside from an increased sense of self confidence, regular participants in Ju-jitsu experience many other physical benefits including increased fitness levels and improved muscle tone. Bishop Challoner Ju-jitsu Club is also a very friendly club, where new members are always welcome and so we like to think that there are social benefits to attending our club too!
Training Times
Bishop Challoner Ju-jitsu Club trains every Tuesday 8pm - 9.30pm. If you are interested in training with us, please drop in and see us, or contact us for further information.